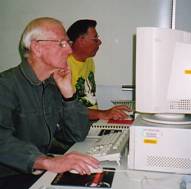 Happy New Year to all our readers
Yes I know what you're saying…why has there been no Chronicles since August 2004.  Well it is a long story.  First of all when moving a computer from a desk (stacked one on top of the other) I picked up the top one and the bottom one must have been caught up somehow, because the bloody thing flew off the table and landed on my left big toe.  That paralysed me for the rest of the day.  The computer you ask, well it was plugged in and running and it was still running when I lifted it off my foot.  And it still works perfectly well five months later.  I thought the toe was broken, but after consulting the Internet and icing it for a couple of hours I found I could move it…not broken.
Then the next saga started on the 9th Sept.  I went to the Veteran Centre and felt tired all day.  Then at 4am on the 10th Sept I had a raging temperature, was puffing like a dog and shaking uncontrollably.  By 12:30 I was admitted to Hillcrest Hospital and there I stayed under the close care of the marvellous nursing staff for the next twelve days.  After many blood samples, mouth swabs and cultures the long and the short of it showed up as Mycoplasma Pneumoniae.  I'd become a pin cushions for intravenous drips and the steady flow of anti pneumoniae drugs. 
Now being one who has clocked up many miles walking, I now found I couldn't walk the length of the ward.  One day after being disconnected from the drip I thought I'd go walk about.  I got to the end of the ward and didn't think I was going to make it back.  From that little escapade I learnt that it was going to be a slow recovery. 

I ntel® Celeron® 2.4GHz
Intel 865 Motherboard
256 MB PC2700 DDR-SDRAM

40Gb Hard Disk Drive
DVD/CDRW Combo Drive

17" Digital Monitor
56K Modem
PS/2 Keyboard and Mouse
Trend Micro PC-Cillin Internet Security

Microsoft® Windows® XP Home Edition
Approx
$ 1,300.00
For more information check out the prices at Compusound
On discharge the Doctor told me to "take it easy" or you'll have a relapse.  So I did, I took it easy for a couple of weeks.
John Elson, Phil Aplin and I went up to see John Frankel in the Mater Hospital and a few days later he passed away.  His funeral was held at St Christopher's Chapel on the "Fields Meat Works" or AMH road at 2pm on Wednesday the 6th October.  John had led a very full life and had spent most of his spare time within his military hobbies and his family.
The World Wide Web can provided a knowledge base beyond the imagination of all.  In a lifetime no one will see everything that is currently on the web today, let alone by tomorrow.  For those with computers and connected to the Net it is a matter of pressing on with learning and enjoying this modern day facility.  For those without a computer, you must ask yourself what is holding you back.  The first age old answer is "I'm too old to learn"   All bullshit.  Some of the students I've had at COIN are in their 80s.  They've learnt how to communicate with their grandchildren via Email, send and receive photos, look up old mates and add some zest to life looking up old hobbies and interests.


Acer TravelMate 252ELC
Intel® Pentium® 4 2.6GHz


256 MB DDR-SDRAM




40Gb Hard Disk Drive




DVD/CDRW Combo Drive




15" TFT XGA Display




Embedded Floppy Drive




Intergrated 10/100 Ethernet




Intergrated 56K Modem


Microsoft® Windows® XP Home Edition


Bonus FREE Carrybag




Approx

$ 2,150.00

For more information check out the prices at Compusound
Well you say "I'd like to learn, but…" but where do I start, where do I go, what should I do first.  Queensland TAFE in most towns have beginners classes and if you live within a hours drive of Rockhampton we are lucky to have COIN.  A community based learning facility at the corner of East and Fitzroy streets provides a series of 2 hour classes over a 6 week period at which you can learn the basic operation of a computer to the extent that you'll be able to send Email and surf the Internet by the end of the first 6 weeks.
Do I need a computer… The easy answer to that one is yes, but not necessarily.  If you have access to a public library or a Internet Café you don't need one immediately, or if you were a COIN Student you can use the Tele-Centre on the premises.  But you will find out yourself that the inconvenience of not having a computer at home becomes to great and you will decide to buy one.
You will need to suss out your local suppliers, get three quotes on the SAME gear, look to see what warranty there is and what software you actually get.  Today a standard computer is a quarter the price of what it was 4 years ago.
If you are on the move you may need to consider a laptop, but that is another ball game altogether.
Quoting a price on the left from one Rockhampton supplier will give a rough figure to put into the budget.  I have no pecuniary interest in Compusound Phone (07) 4922 5988 at the Kmart Plaza, however, I have found their sales and service to be very good.  I'm sure that they will be able to assist you with a decision on what would be a suitable PC for your needs.  Where ever you go ensure that you get a full OEM copy of the operating system.  In some cases you may have to pay a little more, but I can assure you that it will payoff the first time you have a computer crash.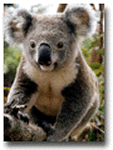 Recently over the last few months I have created a few more websites.  One of interest was for the Central Queensland Koala Volunteers
The local group fund raise to assist students at the UCQ carry out studies into the life and habitats of our Koala population.  The group are selling calendars for 2005 at $15 each These are available either via the application on the web site or from the University Book Shop in East Street
This fellow is typical of the Koala images that we see in books etc. But the population numbers are getting less every year and one day all we'll have is a photo.  So help to do something about it, buy a calendar.  Call Denise on 07 4930 9944 and leave a message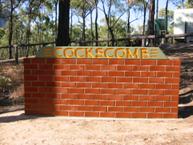 So there you have it.  I hope you all survived the Christmas New Year break and we'll be looking forward to seeing you again next time you visit Cockscomb.  On our web site you'll find the Christmas 2004 photos and for those who were unable to attend, we all had a great time.
Thanks to Bruce & Liz for the BBQ lunch, enjoyed by all