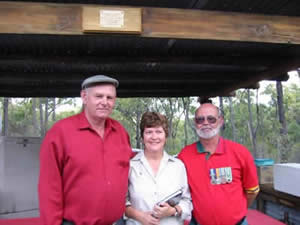 Stan Brown left (Sapper Brown) traveled up from Tasmania to be with Kaye Murray center and Mick Cook (Cookie) right on the opening and dedication of the Dennis Murray Memorial BBQ area. Kaye was presented with a photo history of Dennis working at Cockscomb
Veterans traveled from many places in Australia to be at Cockscomb for this years Remembrance Service. Tony Dawes reflected on the age of those men who were killed in Vietnam. Picking 9 random names from the Roll of Honour, Tony spoke briefly on each emphasizing the age at death.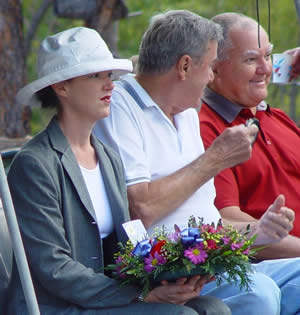 Kirsten Livermore MP attended and laid a wreath for Veterans Day
| | |
| --- | --- |
| The dedication of the Dennis Murray BBQ area | |
| | |
| --- | --- |
| Cookie gives his old mate Dennis one last drink of beer | |
| Chaplin Kaye Ronalds spoke about the ongoing commitment Australia has throughout the world. Kaye blessed our seven new plaques adding to the ones already on the memorial bringing the total to 41. | |
| We stood and remembered while listening to the Lament played by Piper Lester Soblusky | |
| The Last Post and Rouse played by Capt Trevor Ivers Salvation Army | |
| The Dennis Murray BBQ area under construction | |
| | |
| --- | --- |
| Rocky Wallace, Bindi YowYeh and Mick Cook reflect on old mates during the service. | |
| The past and present 42 RQR Q Store Warrant Officers | |
| WO2 Craig Lees, Sgt Anthony Malaspina and Cpl David Erwin 42 RQR | |
The day of course was made possible by the relentless and dedicated work put in by the team of Veterans who attend Cockscomb every Tuesday. Not to be left out in any manner, the visitors to Cockscomb who have worked so hard during their stay
Jim Stevens and Bob Moody enjoy a coldy and a few stories
Phil Aplin readsVietnam Shots by Gary McKay and Elizabeth Stewart. The book will be presented to Cawarral State Primary School

Veterans gather for the dedication of the Dennis murray BBQ area

THANK YOU BRUCE
Hand crafted Cockscomb Clock made by Jim Drever's cousin Lindsay Adams. Timbers used Blackwood, Mountain Ash and Myrtle. The clock was presented to Bruce Acutt by Jim Drever, for his untiring assistance to the Cockscomb Veteran Community
"Written in Stone" Ross Coulter

Ronald (Bindi) Yow Yeh laid the first wreath on behalf of his own Batalion 6 RAR D company who fought at the Battle of Lang Tan. Followed by Kirsten Livermore MP and Rose Swadling our Rockhampton City Councillor, then the Cockscomb Veterans represented by Dan Connally, attending Veterans and the visitors to Cockscomb.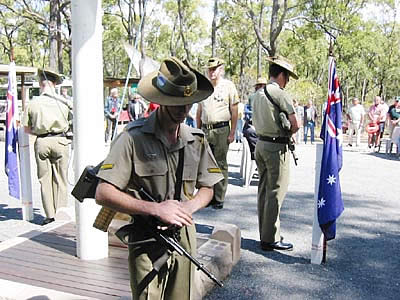 Without the assistance of our local Battalion 42 RQR our day would be made less enjoyable. The Catafalque Party mounted the Memorial at 1055 and the 3rd Cockscomb Remembrance Service took place.


WINTV Kent Murray and Sports Journalist Ryan Van Haalen interviewed Bindi YowYeh, Allan Munster and Bob Moody after the service. Bindi, Allan and Bob were all in 6 RAR. Mick Cook, a close mate of Dennis Murrays was also interviewed.
VVDAY BABY GENIVEVE
Each year the first born baby on VVDAY is presented with a Teddy Bear and a Certificate while mum receives a boquet of flowers. This year baby Geniveve arrived at 0015 (15 minutes past 12 midnight) weighing 4230grams and the third child for Julie and Richard

KERSHAW GARDENS VIETNAM MEMORIAL At 10:30am 17th August a Sterculia Quadrifda rainforest peanut tree was planted at the Kershaw Botanical Gardens Vietnam Memorial. With assistance from the Rockhampton City Council Parks & Gardens Staff a hole was dug and tree selected and placed in possition by Robert Busch a National Serviceman Ex 1 Field Regiment Vietnam 1966-67 and Councillor Rose Swadling who has been a supporter of Veteran activities for many years.
Photo Left to right - Rose Swadling, Elizabeth Edgar, Robert Busch and Paul Baxter. The two flags represent Private Kevin Prior and Private James Cox who were killed in Vietnam and who had originally come from Rockhampton.
THANK YOU
Graham & Rose Swadling continue to assist Cockscomb ever since its begining in July 1997