Some months ago a donation of a large

long term unoccupied

caravan from the Island View Caravan Park at Kinka beach made provision for the Caretakers Residence.
BUNNINGS Rockhampton donated 7 tonne of treated timber. This has been put to good use with the building of a hip roof cover over the van and the concrete beside the van.† However, before any of that could be started a retaining system was built to provide a level area beside the van.
†Partly with Bunnings timber products and local timber.† The project progressed over time, but it was a team effort and not always the same team.† Some of the hard workers - John McQueen, Barry Haliday, Allan Evans, Gene Owens, Dan Connolly, Alan Munster, Graham Jensen, Barry Dooley, Geoff Baines, Darryl Grieves, Noel Kegan and George Dobson (Not Veterans but a keen workers), Ken Aspinal Visitor Ex 7RAR and Mick Stokes our local Cawarral Fire Warden. Daryl Webb has supplied fascia and ridge capping and the concrete was paid for by Cockscomb.†
Dale Howlands bored the post holes.† Trevor McMillan Car Carrying Service Cawarral brought the van into Cockscomb free of charge and the initial process was organised by Emu Park RSL, Allan Munster and Daryl Dwyer
Cost so far have amounted to approx $1300.† The roof is there to stay with triple grips, bolts and tie down straps as required by the building code. The team effort pays off and keeps the costs down.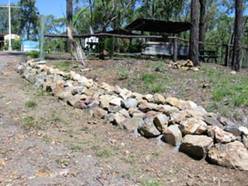 WINGS -
Women In Need Group Support
(
is a group for Vietnam Veteran wives & partners)
meet at 10am on the first Tuesday of every month at the North Street Annex Rockhampton.† The group organises social outings, guest speakers and has a close tie to VVCS.
Contact phone Helen 4928 2554, Kathy 4933 2457
While the concrete was being done a wheel chair access path was poured between the bar area and the gents.† The steps have gone so in the dark you donít need to look where your feet are going, itís all down hill.
STONE PITCHING
Geoff Baines and Gene Owens tried their hand at stone pitching and have done a great job on the sides at the entrance to Cockscomb.† The next project is to divert water off the entrance road and plant trees to enhance the driveway.
On Vietnam Veterans Day 2005 we planted 20 native trees obtained from the Kershaw Gardens Council Nursery, on the driveway at the entrance to Cockscomb.† A watering system has been set in place and the survival of the trees is evident.† In a couple of years time the flowering natives will make a great entrance.
Trees around the Denis Murray Memorial kitchen are taking shape and growing well.† These trees will provide much needed shade to this area.
Although this area looks like a vast cleared area in the bush, it will become a fruit bowl in years to come.† Gene Owens has planted, mango, oranges & lime trees at the back of Uc Dai Loi houseÖat least someone thinks of his stomach.
A LETTER FROM A SUPPORTER to his SAS Unit
Up here in' god's own', we believe that Cockscomb retreat is probably the best option for any of our members wishing to travel through Central Queensland.
Because of its location, it has easy access to Rockhampton, Yeppoon, Emu Park and Keppel Sands. The facilities are first class, and a place where you can experience both the bush and the beauty of the Capricorn Coast in one day.
The hard working members at cockscomb do a terrific job in maintaining and improving facilities at the site, and make all visitors feel very welcome.
Vietnam Veterans Day is an experience never to be missed by Vets, and normally have up to 400 Vets, their families, and visitors attend the day.
The website for the retreat is on the bottom of this page and any members wishing to visit can gain info from that reference point.
Rocky wallace
VETERANS IN NEED
If you are new to the system, it is a Pensions Officer that you need to talk to first.† He or she will get your case rolling.

In Rockhampton assistance is available through the Central Queensland Veteran Support Centre Inc on phone 4922 3616 Monday to Friday 9am to 1pm at 6 Archer Street ANZAC House.
On the Capricorn Coast Veterans in need of assistance for Pensions and Advocacy services for service related disabilities can contact the CapCoast Veteran Support Service (CCVSS) on phone Emu Park 4939 6785 and Yeppoon 4939 4933.† The Yeppoon RSL is open every Thursday between 9am and 11am, but appointments are preferred.† Both phone lines have answer machines.† Officers are all TIP trained and vary in expertise between Pensions Officers, Case Officers, Welfare Officers and an Advocate.†
Assistance is also available through the Vietnam Veterans Federation Rockhampton Sub Branch operating out of TS Rockhampton Naval Cadet Unit 170 Quay Street.† Open Tuesday & Friday 9am to 1pm phone 4922 7031 or 4922 3891